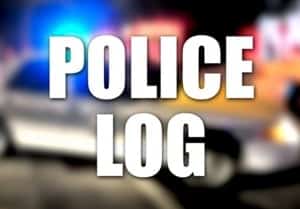 4/4/2016, 10:40 AM – HIT AND RUN ACCIDENT – DUI
 Christine Dudley, 65, Annville, stopped her car on West Main Street at Route 934 when Joel Blair,42, Palmyra, who was also driving East on West Main Street struck Dudley's vehicle.  Blair did not stop and continued East on Main Street. The vehicle was located in the 1000 Block of East Main Street and Blair was arrested for DUI.
 4/3/2016, 12:26 AM – OPEN CONTAINER
 Tyler Conlon, 22, Phillipsburg, NJ, was charged with an open container of alcoholic beverage in the first block of West Sheridan Ave.
3/20/2016, 12:42 AM – Public Drunkenness
Justin Souder, 35, Harrisburg, was cited for Public Drunkenness after causing a disturbance in the 200 block of West Main Street.
 3/19/2016, 11:40 PM – Underage Drinking:
Police responded to 50 East Summit Street for an Ambulance response. Police assisted EMS personnel and Isaac Reese, 19, Gettysburg,  was cited for Underage Drinking.
 3/19/2016, 11:05 PM – Disorderly Conduct
Gary Smith, 31, and Amanda Smith, 34, Jonestown, were cited for Disorderly Conduct after causing a disturbance in the first block of East Main Street.
 3/17/2016, 3:20 PM – Traffic Crash
Vehicles driven by Darvin Eby,45, Ephrata, and Helen White, 54, Lebanon, were stopped in the 100 Block of West Main Street when a vehicle driven by Joel Lewin, 84, Annville, failed to stop and struck Eby's vehicle pushing him into White's vehicle.
 3/17/2016, 3:16 PM – Traffic Crash
Vehicle driven by Richard Raiders, 63, Annville, was stopped in the 300 Block of East Main Street to turn left.  Vehicle driven by Lndsey Landis, 21, Elysburg,  was travelling on East Main Street and struck Raider's vehicle.
 3/17/2016, 12:35 PM – Traffic Crash
Robert Johnson was driving West on West Main Street when a vehicle driven by Kelsey Allison pulled out from North Chestnut and struck Johnson's vehicle.
 3/15/16, 8:56 PM PUBLIC DRUNKENNESS/DISORDERLY CONDUCT: 
Police were dispatched to the area of Main and North White Oak Streets for a report of a loud disturbance. Subsequently, Police cited Bradley J. Hoffer, 24, Palmyra, with Public Drunkenness and Amanda L. Mease, 33, Annville, with Disorderly Conduct.
 3/8/2016 – VEHICLE CRASH – CHARGES FILED
 Charges were filed against Jashua Blackman, 27, Annville, from a crash on September 20, 2015, 2040. Blackman was travelling East on Route 422, veered into the Westbound Lane and struck  a vehicle driven by Julie Eisenhauer, Palmyra.   Blackman was charged with Accidents involving Injur while not properly licensed, Careless Driving, Driving without a license, Required Financial Responsibility and Driving on the Right Side of the Roadway. 
3/2/2016, 9:47 PM- HEROIN OVERDOSE:  Police and EMS responded to the 400 Block of West Queen Street for a reported drug overdose. A male subject was found unresponsive after using Heroin laced Fentanyl patches.  The subject was administered doses of Naloxone and was revived and transported to Good Samaritan Hospital.  The investigation continues to determine what charges may be filed against the subject for drug possession.
 3/1/2016, 12:51 PM - HARRASMENT:  Jeffrey SHENCK, 51, Annville,  was cited for Harassment after shoving an elderly neighbor in the 600 Block of East Maple Street due to a dispute about a parking space.
 2/29/2016, 08:51 AM VEHICLE CRASH:  Vehicles driven by Michelle Ingram, 20, Lebanon and Ashley Palkovic, 28, Palmyra were stopped for a pedestrian in a crosswalk in the area of Main Street and Killinger Street.  Trenton Wizar, 18, Lebanon, was travelling on Main Street and struck Ingman's vehicle which pushed Ingman's vehicle into Palkovic's vehicle.  Wizar was cited for Texting While Driving and Careless Driving.
 2/28/2016, 01:22 AM  PUBLIC DRUNKENESS:  Zachary Adams, W/M/19, Selinsgrove, was cited for Underage Drinking and Public Drunkenness' after refusing Officer's commands to stop when running through residents backyards in the 100 Block of North Railroad Street.
2/23/2016, 2:43 PM INJURED DOG: A resident reported someone shot his dog in the face with a BB gun on 2/21/2016 between 6:00 am and 11:30 pm. During the incident the dog was in a backyard in the 300 Block of West Church Street. Anyone with information please contact Annville Township Police.
 2/21/16  10:53pm  UNDERAGE DRINKING:  Harrison Yiengst, 20, of Lebanon  and Blaze Bertone, 20, of Annville, were cited in the 100 block of West Queen Street.
 2/20/16  10:52pm  OPEN CONTAINER:  Klayton Garman, 21, of York was cited for having an open can of beer while on a public street.
 2/20/16  4:37pm  TRESPASSING:  2 juveniles reported an elderly male was chasing them near Zeigler and Liberty Streets.  Further investigation revealed the boys were trespassing and had been followed to their home by the landowner.  No criminal action was taken.
 2/19/16  12:45am  FLEEING & ELUDING POLICE:  A vehicle fled from police after it was being pulled over.  It was not pursued, but police later found the vehicle driving on 934.  The driver, Keith Witmer, 22, of Cleona, was cited for driving suspended.  
 2/17/16  2:52pm  SNOWBALLS THROWN AT CARS:  Police found a 15 year old male throwing snowballs into traffic on 422.  Because no cars were hit, police contact his parents and issued him a verbal warning.
 2/17/16  6:46am  HIT AND RUN:  A resident reported a stop sign had been run over at the intersection of South Chestnut and Water Streets.
 2/17/16  12:37am  SUSPICIOUS MALE:  Police were called to LVC for a suspicious male near the college library. The male had left when police arrived.
 2/15/16  11:40pm  HARASSMENT ON SOCIAL MEDIA:  A caller reported she is being threatened by messages on Facebook. It was discovered that neither she nor the suspect live in Annville Township.  She was referred to the proper jurisdictions.
 2/15/16  12:52  PEDESTRIAN STRUCK:  A 13 year old male was hit by a car in a crosswalk on 422 just west of the square.  He reported he was brushed by a passing car.  He was not injured and the driver was cited for improper passing and yielding to pedestrians in a crosswalk.
 2/14/16  5:03pm  HIT AND RUN:  A resident reported someone hit his SUV behind the first block of South White Oak and then fled.  No vehicle description was given.
 2/12/16  11;37pm  SUSPICIOUS ACTIVITY:  A passerby reported a male walking in a cowboy hat in the middle of Maple Street at night.  When police arrived, the male had made it into a nearby home and was safe.
 2/12/16  7:55pm  NOISE:  A resident reported 2 loud explosions and a bright flash north of the railroad tracks near the 1000 block of East Main Street.  It appeared to be an electrical transformer at a business.  No injuries were reported.
 2/12/16  10:38am  CIVIL DISPUTE: A resident of the 100 block of North Railroad called to complain about payment for installation of heating equipment.  Police determined it was a dispute over services and payment and not a criminal matter.
 2/12/16  7:46am  REPORTABLE CRASH:  Jonathan Acosta-Tirado, 22, of Lebanon, hit a parked car in the 1400 block of East Main Street, causing disabling damage.
 2/13/16  1800  PFA VIOLATION:  Christopher Loy, 38, of Annville, was arrested for knowingly violating the no-contact provisions of Protection From Abuse order issued in Lebanon County in 2015.
 2/11/16  8:48am  STOLEN VEHICLE:  A resident reported his black 1999 Honda Civic was stolen from the 500 block of Maple Street overnight.  It was displaying a PA license plate of EDV3005.
 2/10/16  3:05pm  LANDLORD/TENANT DISPUTE:  A landlord of the 400 block of East Main Street came to police with questions regarding a former tenant allowing others to live there.  Police answered his questions and directed him to contact an attorney or the Magisterial District Judge for civil remedies.
 2/10/16  3:04am FALSE ALARM:  Police were sent to the Speedway store, 750 East Main, for multiple alarms set off by an employee opening the store.  All was found to be in order.
 2/8/16  2:55pm  THREATS: A female came to the station to report threats by text message from an ex-boyfriend.  It was discovered the threats were indirect and made to a 3rd party.  No criminal action occurred in Annville Township.
 2/8/16  12:09pm  COUNTERFEIT CURRENCY:  A manager of the Turkey Hill, 2 West Main Street, reported receiving a counterfeit $100 bill on the day before.  The bill had since been turned over to their bank.
 2/8/16  DOMESTIC DISPUTE/MENTAL HEALTH:  Police were called to the 100 block of South White Oak for a possible suicide.  It was found to be a domestic dispute where a male had made suicidal threats during an argument.  The male agreed to go to the hospital and speak to a Crisis Intervention counselor.